Production Services
Weaver ProPak provides professional production services at competitive prices. We boast a 40-plus-year history of providing businesses throughout the region a high-quality service and on-time turnaround. Weaver ProPak continues to invest in resources that will maximize our level of competitiveness and widen the scope of services we offer.
Weaver ProPak offers:
Professional contract services, that include:
Assembly
Packaging
Kitting
Labeling
Fulfillment
ProPak's unique work environment provides supported integration where employees with and without disabilities work side-by-side performing the same jobs.
Packaging & Assembly Services
No project is too large or too small; with 650 workers and 9 facilities, your project will be completed according to your specifications and delivered to your docks when you need it.
Packaging or kitting
Assembly
Labeling
Re-packaging
Fulfillment/inventory
Contract Services
Put Us To Work For You Professional Contract Services -- All For The Right Reasons
The Weaver Industries production services division has a 40 year history of providing businesses throughout the region and country quality service with a proven track record of competitive pricing, high quality and on-time turnaround.
Weaver Industries is a non-profit organization providing individuals with disabilities vocational training and employment opportunities. We service Northeast Ohio with a diverse workforce through distinct business divisions.
Weaver Industries provides professionally manufactured and assembled products at competitive prices. We continue to invest in resources that will maximize our level of competitiveness and widen the scope of services we offer.
Capabilities & Services
Our Services
The production services division understands your business needs and has quality systems in place and a proven track record or meeting and exceeding customers' expectations.
Weaver Industries is dedicated to building long-term relationships with our customers. We work seamlessly with your operations to provide the right option -- at a competitive price -- for the right reasons!
Employment Services
Sub-Contracting
Assembly / Sub-Assembly
Packaging / Labeling
Sorting / Collating
Reclamation / Inspection
Pick-Up / Delivery
Contract Services
Weaver Industries Contract Services Division allows your work to be completed in one of our eight convenient Akron workshops throughout Summit County. We specialize in time and labor intensive projects -- freeing up your staff. We'll pick-up, deliver, and guarantee that the job is done right!
Eliminate Costly Overhead
Quality Workmanship
Cost-Effective Production Solutions
Diversified Labor Pool
Competitive / Professional Service
Employment Services Program
Our Employment Services Program enables our employees to work at your facility. Each employee is screened, dependable and hard working -- eliminating costly turnover and poor attendance. You choose the supervisory method that best fits your company's needs.
Applicant Screening
On-Site Job Training
Temporary / Permanent Employment
Quality Performance
Reduced Operational Costs
Payroll Options
Delivery & Storage Services
Let Us Help Your Business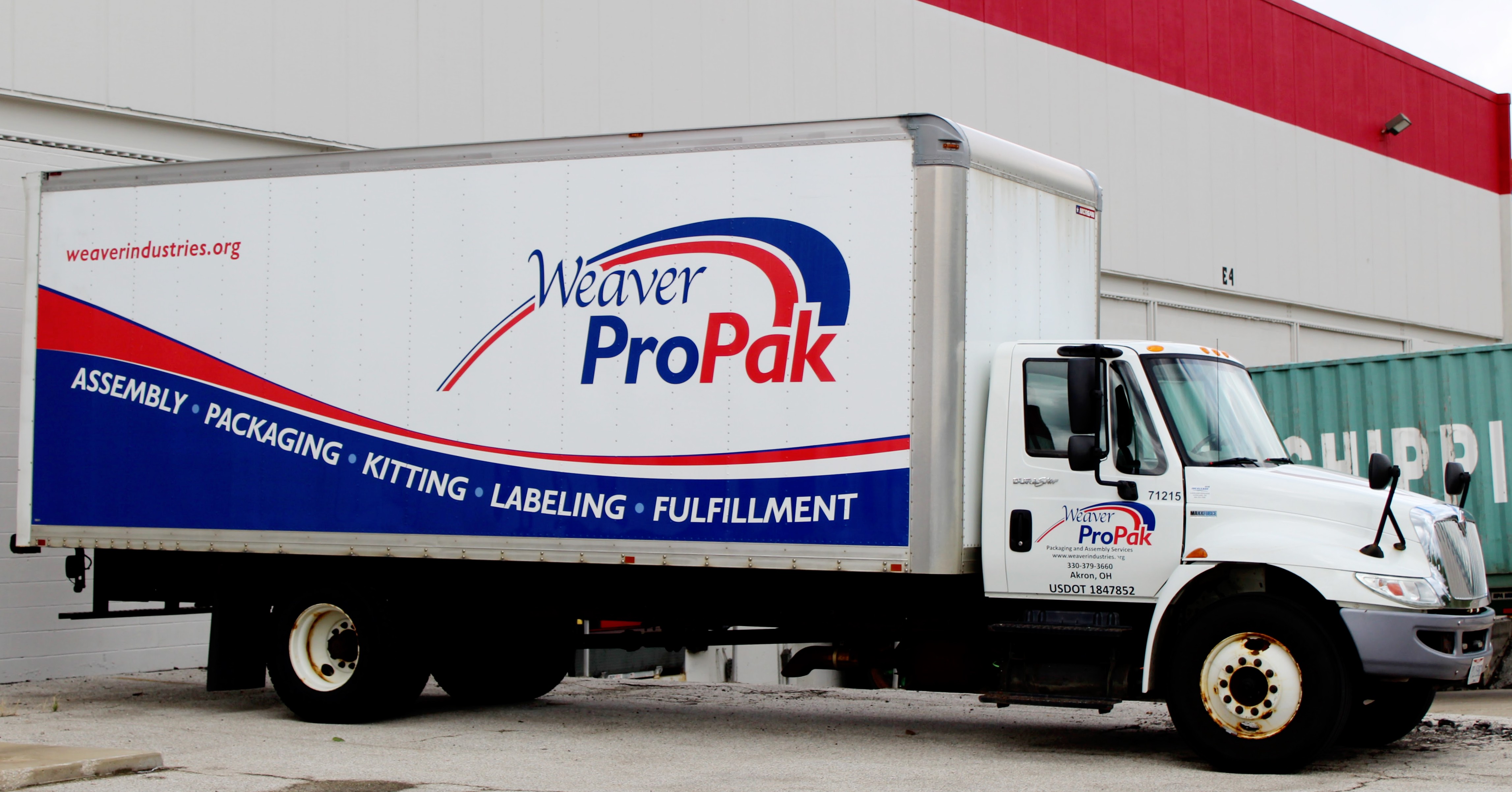 Weaver production services division is able to provide door-to-door trucking service for your project so there is no need to worry about additional LTL vendors.
Doing business with Weaver Industries can offer your company many distinct advantages that include delivery and storage options.
Weaver Industries offers more than 112,000 sq. ft. of manufacturing and storage space throughout our Summit County workcenters. This means that we can store and then deliver product when and where you need it. We can even drop-ship direct to your customer. Let us eliminate valuable storage space in your facility by offering you a storage solution.
In terms of acquiring product for a contract job, we can either pick-up at your facility or you can delivery directly to one of our workcenters. We have eleven truck docks and three drop trailer bays to accommodate pallet deliveries.
The Weaver Advantage
With Weaver, you can keep your staffing lean, utilize your existing workers more efficiently and simplify your outsourcing by working with one source/vendor - all while helping to provide vocational training and employment for individuals with disabilities in your community.
In today's business environment, companies need to find ways to stay competitive. Weaver Industries can provide your business with a multitude of strategic business advantages.
We will provide your company with qualified workers and professional business services that cangive you an edge over your competition. Our diversified labor pool is specially trained to meet your labor and contracting needs.
Diversified Work Force
Multiple Production Locations
Competitive Pricing
Pick-Up / Delivery Services Available
Flexible Production Schedules
Fast Order Turnaround
Professional Service